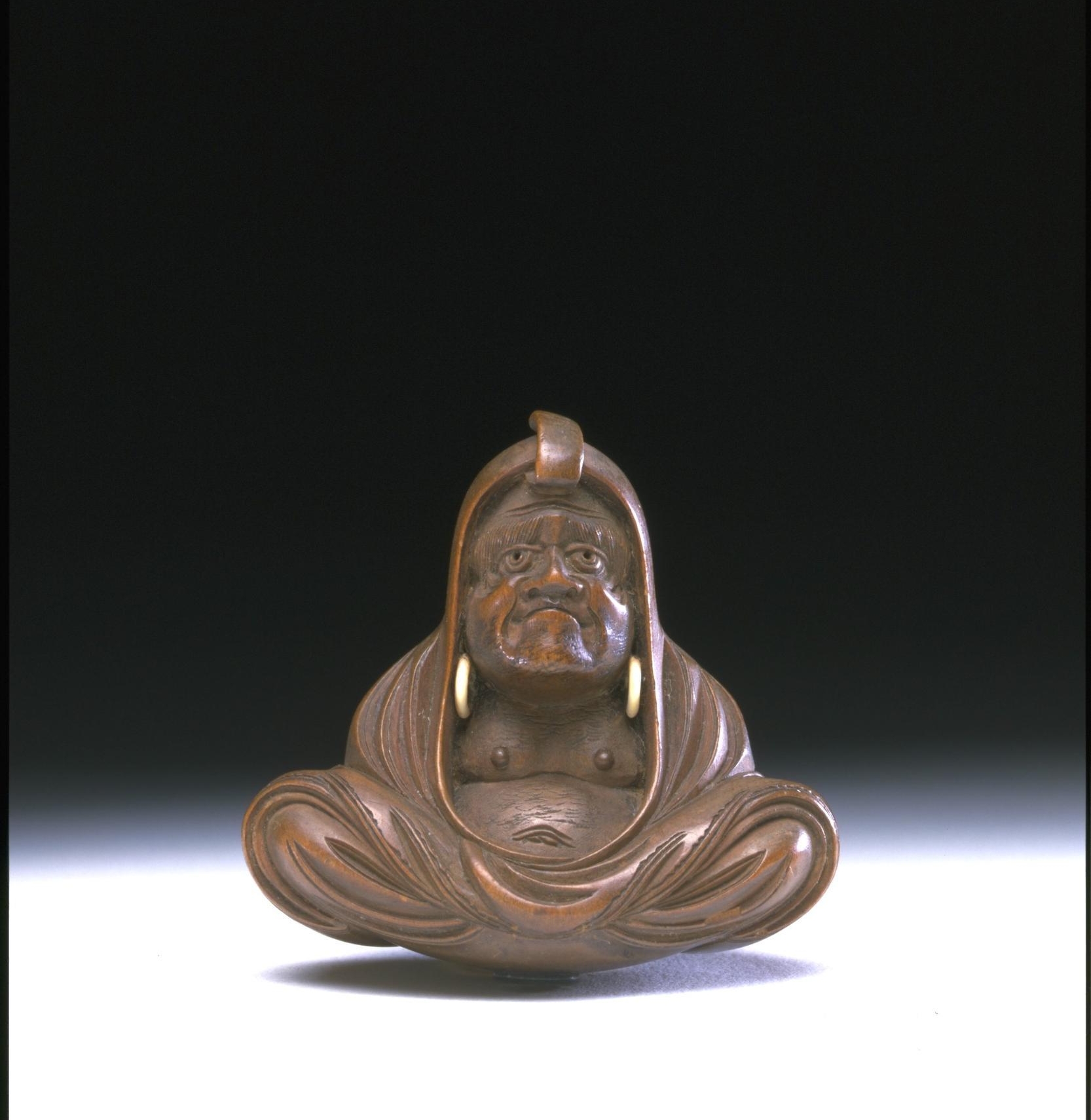 Place of origin: Japan (made)
Date: ca. 1800 (made)
Artist/Maker: Shumin (maker)
Materials and Techniques: Carved and stained wood, with ivory details
Museum number: CIRC.27-1918
This netsuke in boxwood, with earrings of ivory, shows Daruma during his legendary nine years of meditation. His expression appears to be one of bored resignation to his ordeal. During his meditation Daruma allegedly lost the use of his legs, and in some versions of the story actually cuts off his eyelids to prevent himself falling asleep.
Netsuke | Shumin | © Victoria and Albert Museum, London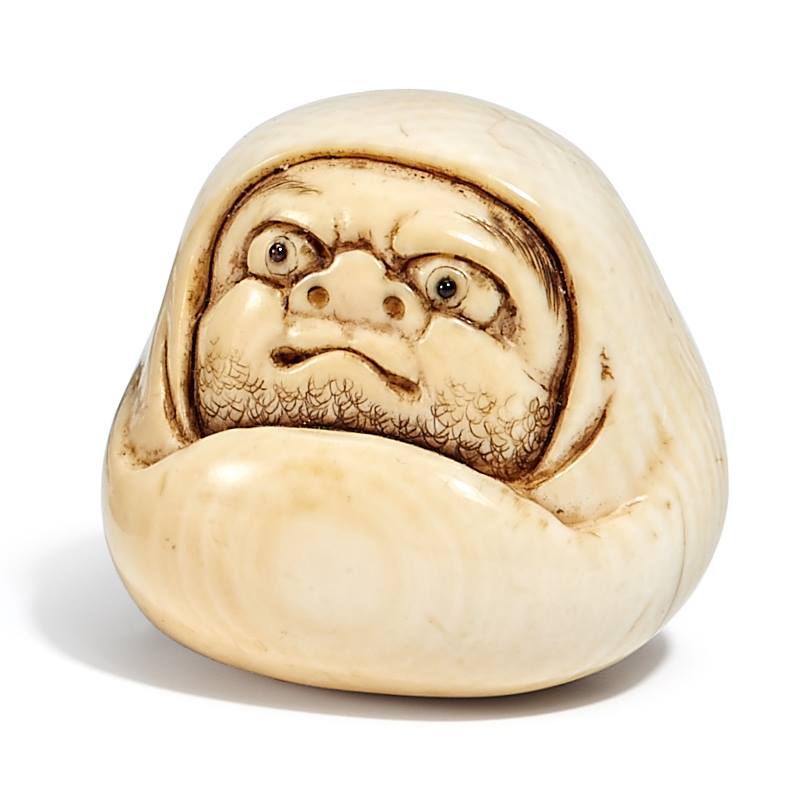 NETSUKE. DARUMA MIT HOSSU.
ELFENBEIN.
Mitte 19. Jh.
Daruma ganz in seine Robe gehüllt, aus der
nur das Gesicht mit den eingelegten Horn-Augen
hervorschaut. Auf der Rückseite sein Hossu
in versenktem Relief, Bart und Haare fein
graviert und dunkel akzentuiert, Juwel eingelegt
aus Karneol. B.2,8cm. Zustand A.
Provenienz: -Alte Sammlungs-Nr. 36
VAN HAM
from catalog 356. Auction, Asian Art, Thursday, 3 December 2015
From the seventeenth through mid-nineteenth centuries, Japanese citizens of all classes wore the kimono—a simple T-shaped robe constructed with minimal cutting and tailoring—wrapped around the body and held in place with an obi sash. In order to carry small items such as tobacco, medicine, and seals, ingeniously constructed sagemono (a collective term for "hanging things") were suspended on cords that hung from the obi sash. Stacked, nested containers, known as inrô, were specifically designed to hold medicine or seals. Netsuke served as anchors or counterweights for inrô and sagemono. A single cord was threaded through a cord channel on one side of the suspended container, through two holes (himotoshi) in the netsuke, then through the other side of the container, and knotted on the underside of the container.
Netsuke: From Fashion Fobs to Coveted Collectibles | Essay | Heilbrunn Timeline of Art History | The Metropolitan Museum of Art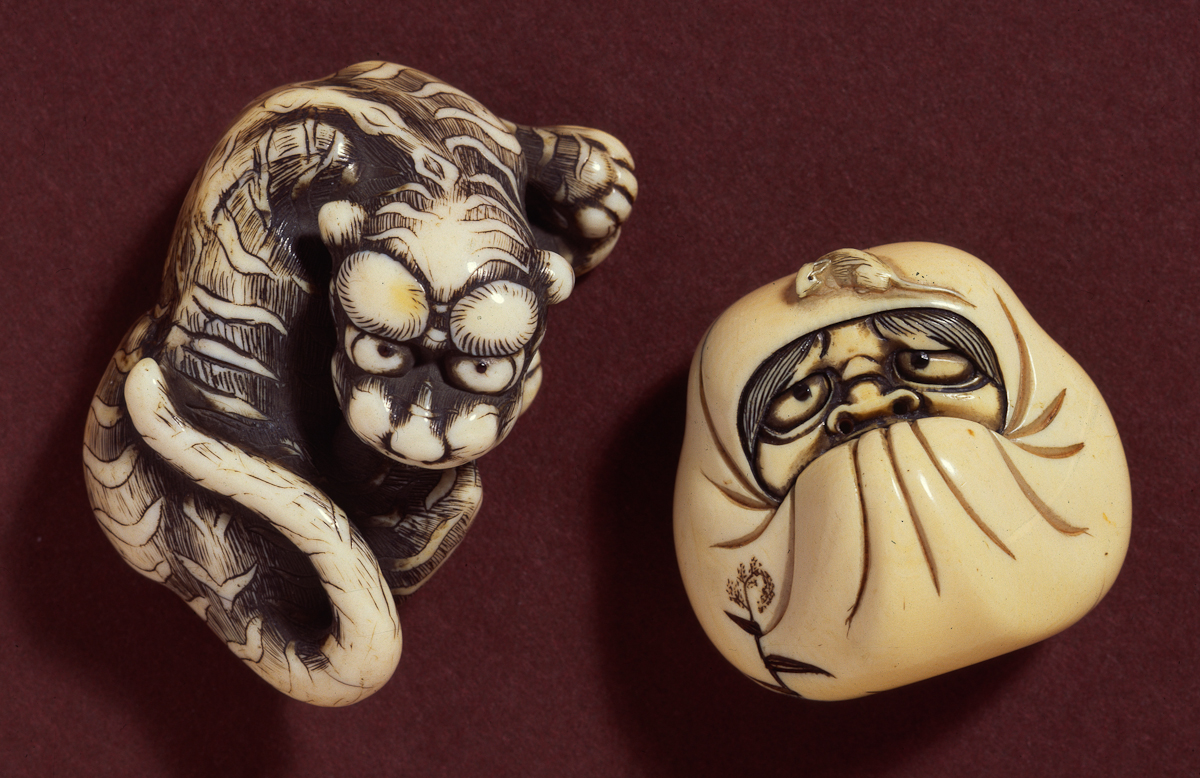 Ivory netsuke of Daruma in meditation with rat crawling over his head.