Takht Bai, Takht-i-Bhāi, Takhtbai, Takht Bhai or Takh Bay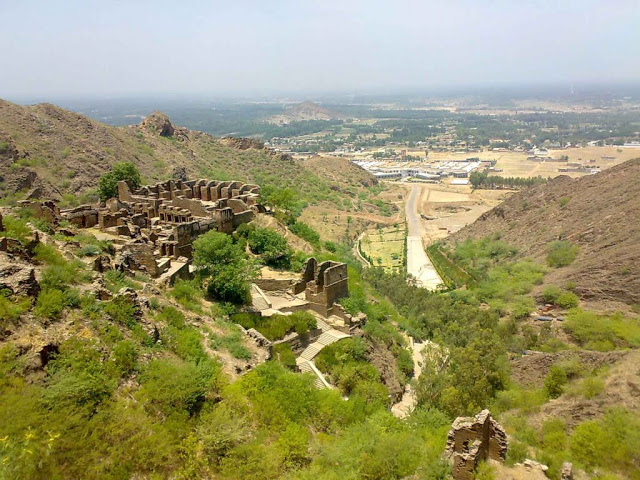 Shams-i-bala and The Historical Shambhala Kingdom: The Takht Bahi Monastery & Early Tantric Buddhism (520 AD)
The Buddhist Ruins of Takht-i-Bahi and Neighbouring City Remains at Sahr-i-Bahlol are one of the most imposing relics of Buddhism in the Gandhara region of Pakistan. The inscribed property is composed of two distinct components both dating from the same era.

The Buddhist Ruins of Takhi-i-Bahi (Throne of Origins) are a monastic complex, founded in the early 1st century A.D., is spectacularly positioned on various hilltops ranging from 36.6 metres to 152.4 metres in height, typical for Buddhist sites. The complexes cover an area of around 33ha.

The Buddhist monastery was in continual use until the 7th century AD. It is composed of an assemblage of buildings and is the most complete Buddhist monastery in Pakistan. The buildings were constructed of stone in Gandhara patterns (diaper style) using local dressed and semi-dressed stone blocks set in a lime and mud mortar.

Today the ruins comprise a main stupa court, votive stupas court, a group of three stupas, the monastic quadrangle with meditation cells, conference hall, covered stepped passageways and other secular buildings.
Buddhist Ruins of Takht-i-Bahi and Neighbouring City Remains at Sahr-i-Bahlol - UNESCO World Heritage Centre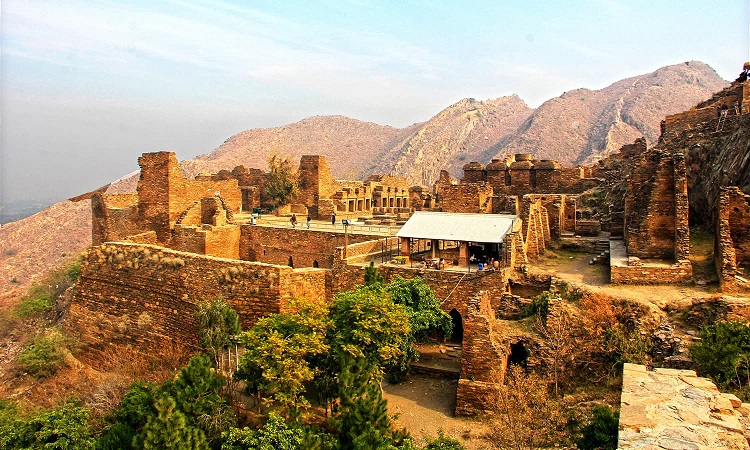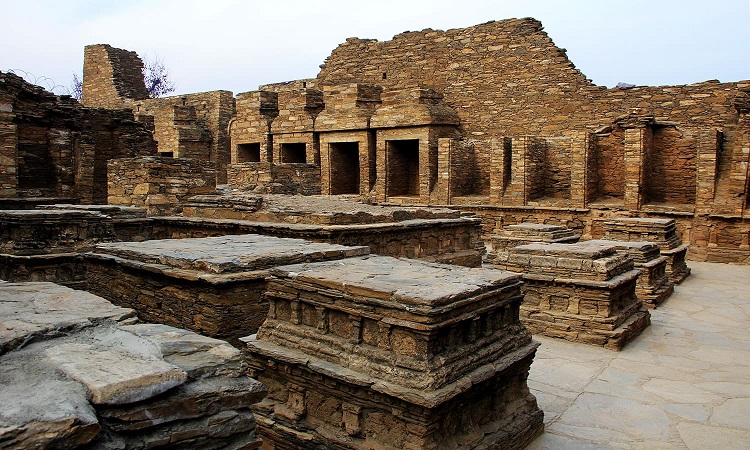 Takht-i-Bhai: A Buddhist monastery in Mardan | Asian Tribune
Few of the recent discoveries in India promise to be more fruitful of important results afor the elucidation of the archaeology of India than those obtained from the recent excavation of ruined monasteries in the neighbourhood of Peshawur. A great deal still remains to be done before we can speak with certainty with regard either to their age or origin, but enough is known of them to make it certain that the materials there exist for settling not only the question of the amount of influence classical art exercised on that of India, but also for solving many problems of Buddhist archaeology and art.
CHAPTER VII.
GANDHARA MONASTERIES.
Monasteries at Jamalgiri, Takht·i-Bahi, and Shah Dehri.
History of Indian and Eastern Architecture by James Fergusson, 1891, pg 169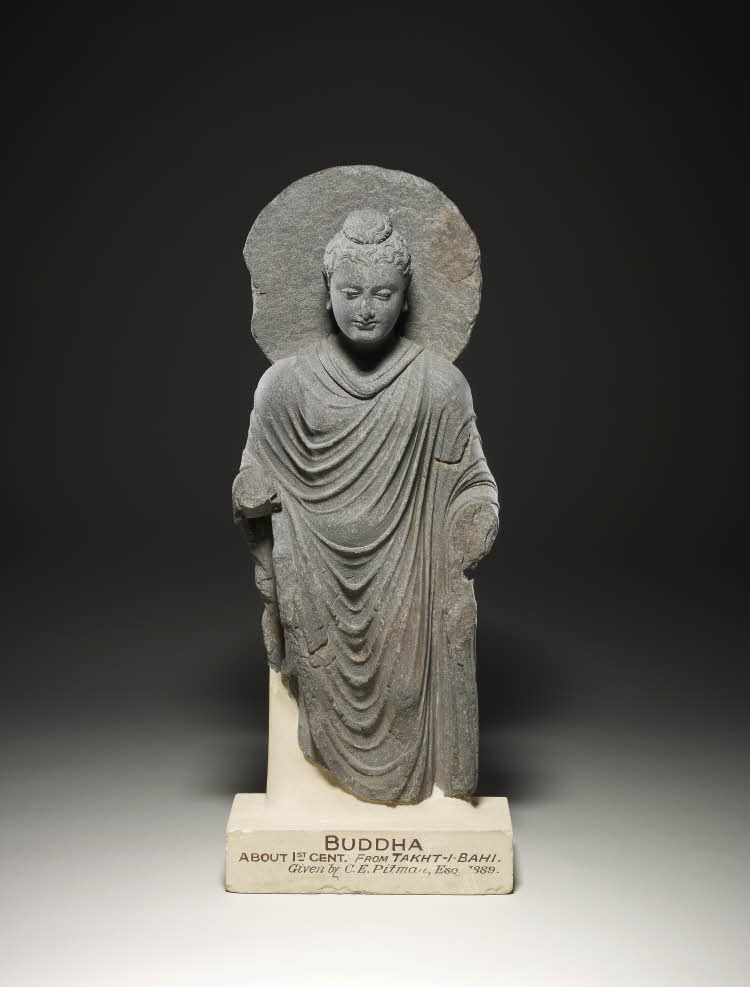 The Buddha
Registration number 1889,1109.1,
Found/Acquired: Takht-i-Bahi
AN1613029260
Standing Buddha, originally in 'abhaya-mudra'. A thick neckline shows the backthrow, and the dense drapery folds run in finely rounded thin ridges, in prominent relief between the legs. A hint of the antaravāsaka girdle shows between the two schemes.

The head, which looks down, is elegantly oval, with hair undulating from a peak into the uṣṇīṣa, which is a little tilted forward and has a small and circular central hole in the top. The eyebrows are a distinct edge, curving gently with a large ūrṇā between, and the long narrow eyes have heavy and prominent lids. The nose is broken and the lips are thin, pursed and shaped above a jutting chin. The concave ears are long and close to the head.

The left knee is flexed, the abdomen is lightly rounded and the halo is plain.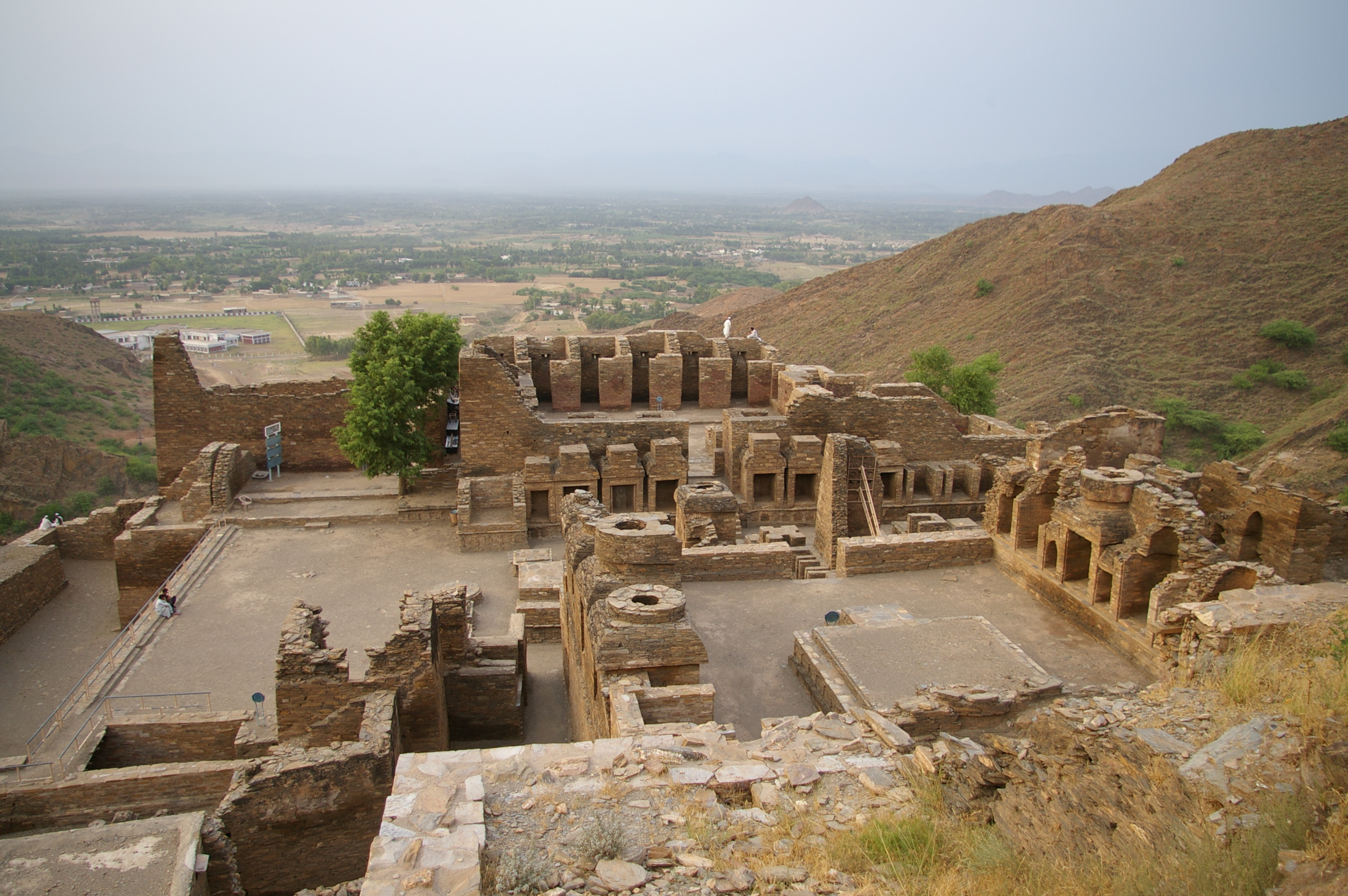 Buddhist Ruins of Takht-i-Bahi (c. 1c. BC), Pakistan: Architecture, Far East | The Red List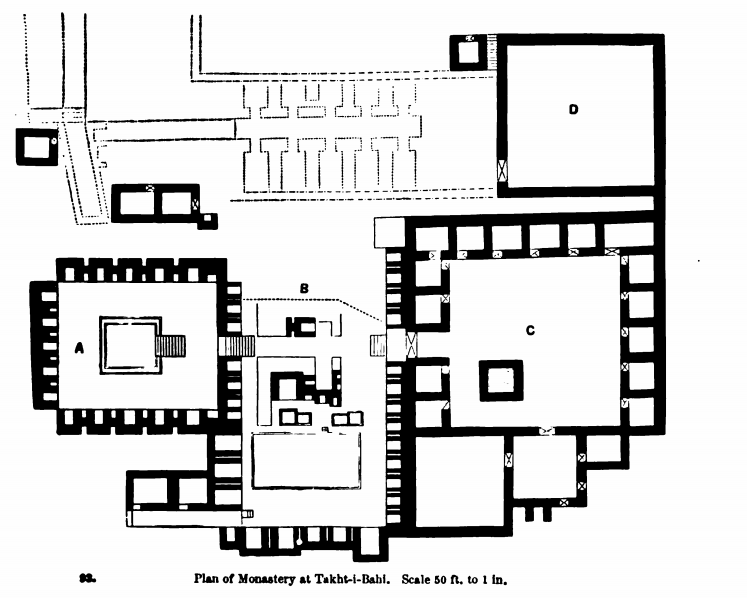 Plan of Monastery at Takht-i-Bahi
History of Indian and Eastern Architecture by James Fergusson, 1899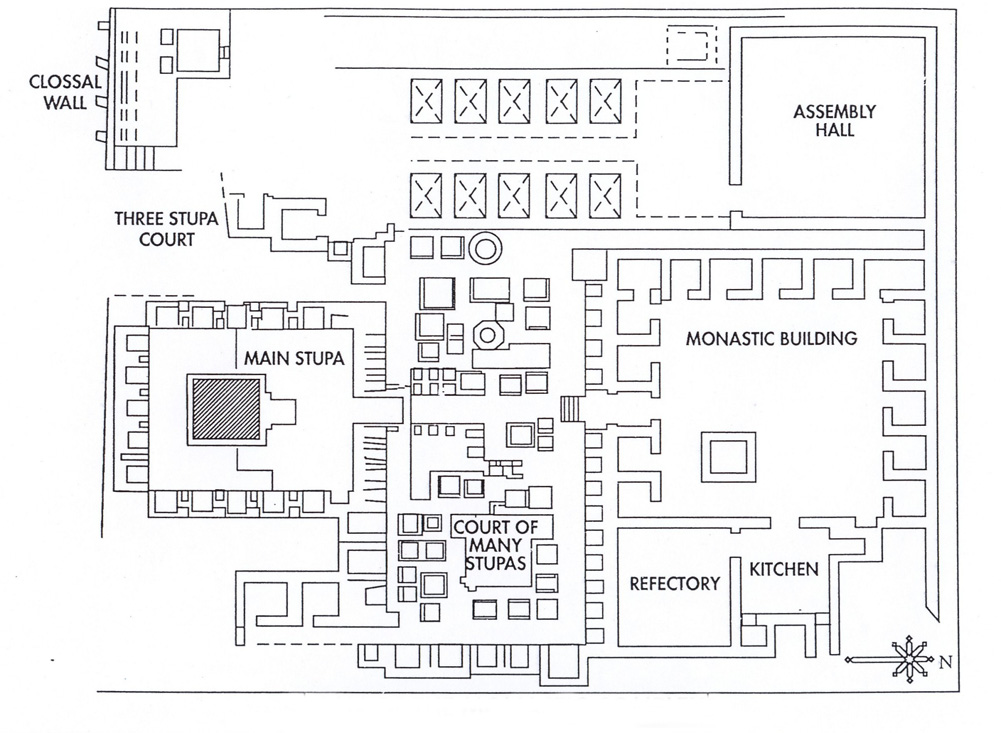 Section II: Summary of Periodic Report on the State of Conservation of the Buddhist Ruins of Takht-i-Bahi and Neighbouring City Remains at Sahr-i-Bahlol, Pakistan, 2003
Takht-i-Bahi (lat.34 degrees 17 minutes N x Long. 71 degrees 57 minutes E) is located about eight miles north-west of Mardan (District Peshawar, Pakistan)on the top of the spur of a hill with a broad view of the valley below. An inscription dates the site to the first half of the first century CE, but the earliest portion were likely a century earlier. Xuan Zang (7th century) describes the main stupa as the biggest and most spectacular he had ever seen. The large monastery built by King Kanishka west of the stupa was already in ruins by the time of Xuan Zang. An inscription on the site notes the visit of Viradeva, who likely came for study from Nagarahara (Jalalabad) at the time of the third Palava king.

A long flight of steps descends from the stupa area to the monastery. The cells surround a central court on three sides and the fourth side semms to have housed kitchens and storerooms. This source does not give the number of cells. Pg. 119-120

Input by: Stewart Gordon 05 Apr 2015
Takht-i-Bhai monastery, (towards) Mardam, NWF Province, PK - Mapping Buddhist Monasteries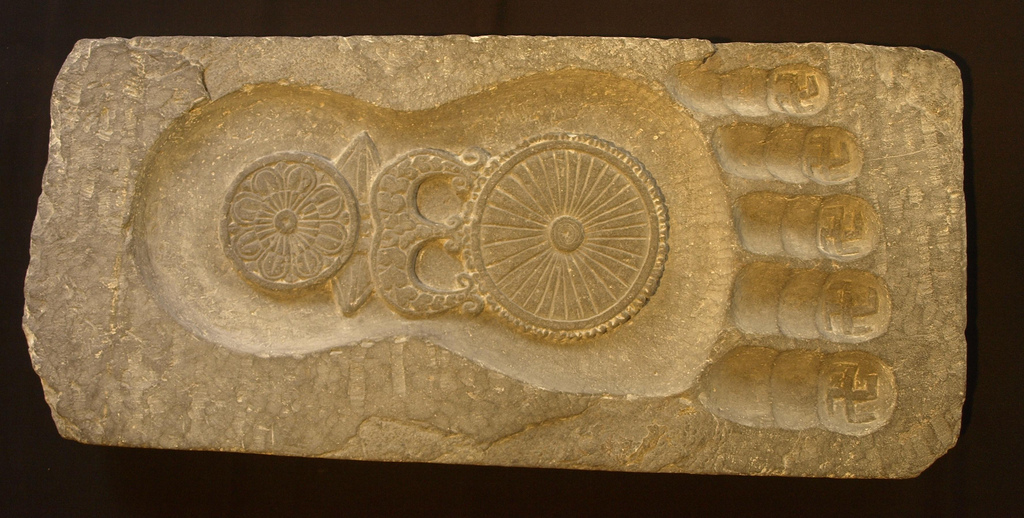 Foot print of the Buddha, from Takht-i-Bahi Gandhara, today in west Pakistan. Grey scist. 74 x34 cm
Frederick Noronha | Flickr