Labrang Trashi Khyil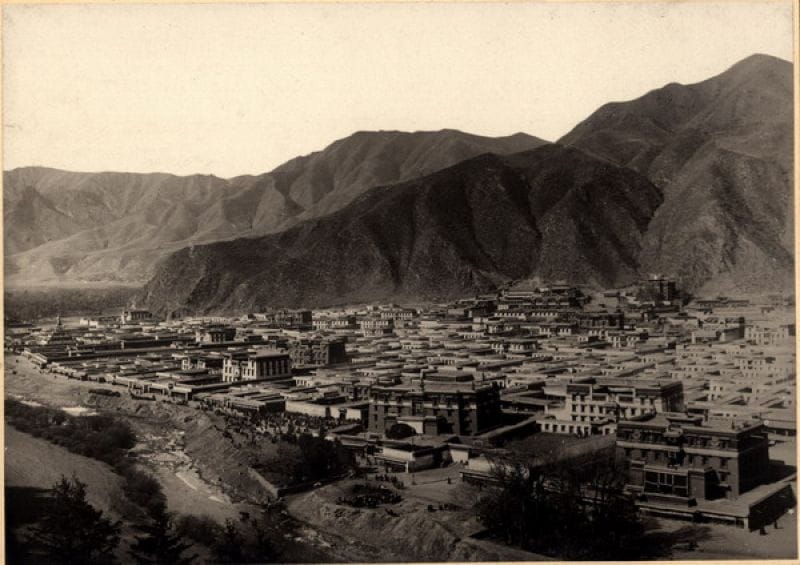 Date: 1910 - 1915, Амдойский буддийский монастырь Лавран
Amdoysky Buddhist monastery Lavran
Genden shaydrub-dargyey Tashi-kunnay kyilway-ling (dGe-ldan bshad-grub dar-rgyas bkra-shis kun-nas 'khyil-ba'i gling), also known as Labrang Tashikyil Monastery (Bla-brang bKra-shis 'khyil), or simply Labrang, was founded in 1710 by the First Jamyang-zhaypa, Ngawang-tsondru (Kun-mkhyen 'Jam-dbyangs bzhad-pa Ngag-dbang brtson-'grus) (1648-1722), in the Amdo province (A-mdo) of northeastern Tibet. It lies 250 kilometers southwest of Lanchow, and is presently included in southwestern Kansu (Gansu) Province of China, near the border of Chinghai (Qinghai) Province. It is counted among the six major monasteries of the Gelug Tradition.
A Brief History of Labrang Monastery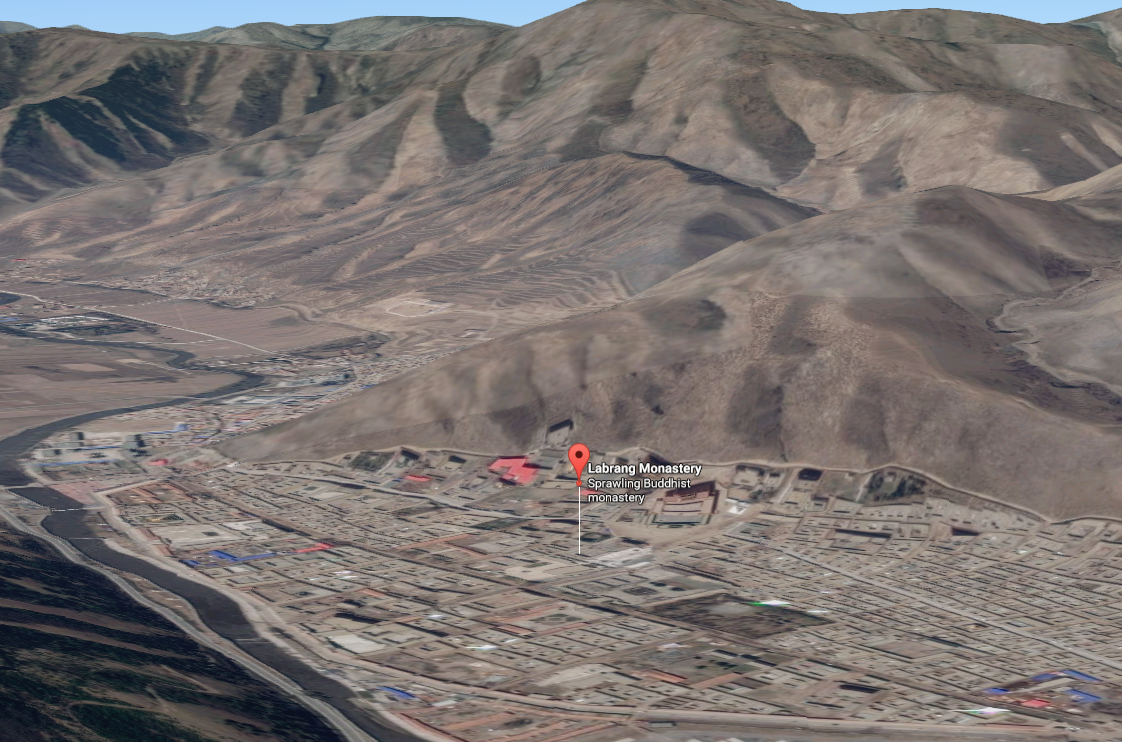 Labrang via Google Maps
Labrang Monastery | བླ་བྲང་བཀྲ་ཤིས་འཁྱིལ་ | bla-brang bkra-shis-'khyil | Genden Shédrup Dargyé Trashi Gyésu khyilwé Ling | དགེ་ལྡན་བཤད་སྒྲུབ་དར་རྒྱས་བཀྲ་ཤིས་གྱས་སུ་འཁྱིལ་བའི་གླིང༌། | dge ldan bshad sgrub dar rgyas bkra shis gyas su 'khyil ba'i gling
Labrang Monastery - Wikipedia, the free encyclopedia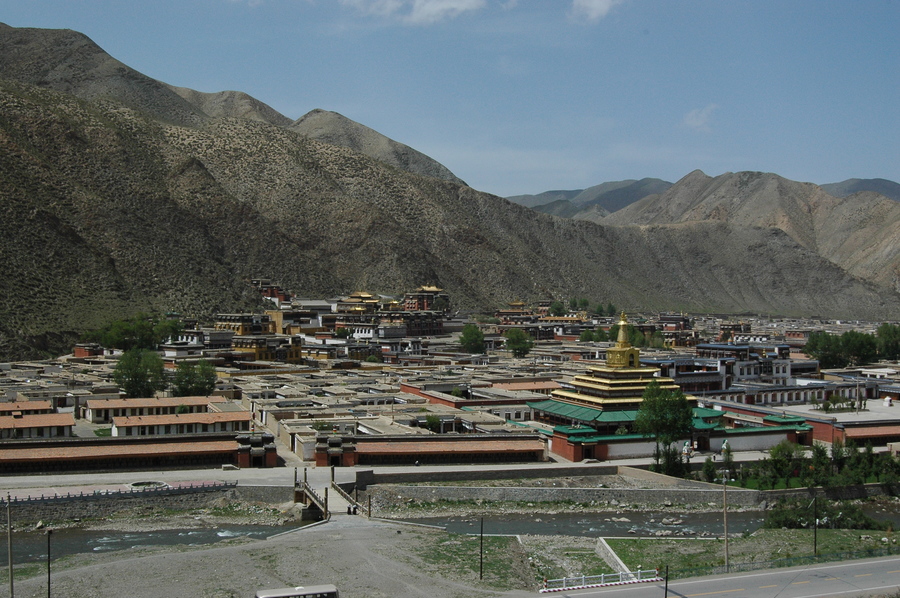 Monastery of Labrang - June 4, 2007 | Some rights reserved |
Richard Weil

Наконец, в 1710-м году Жамьян-шадба ознаменовал свою религиозную деятельность основанием будущего Лаврана. Навстречу его желанию упомянутый элётский князь не только уступил местечко, занимаемое ныне Лавраном, и переместил свою ставку в сторону, но и деятельно помог великому учёному заложить монастырь.
Сначала Жамьян-шадбе был построен маленький дом «Лавран», что значит дом ламы, и монастырь впоследствии стал называться «Лавран-даши-кьил».
Finally, in 1710, the year-Zhamyan shadba marked their religious activities Lavran base future. Towards its request referred elёtsky Prince not only gave way to a place now occupied Lavranom, and moved his headquarters to the side, but also actively helped lay the great scientist monastery.
First-Zhamyan shadbe small house "Lavran" was built that house Lama means, and the monastery later became known as "Lavran-dashi-kil."
МОНГОЛИЯ И АМДО И МЕРТВЫЙ ГОРОД ХАРА-ХОТО, ОТДЕЛ II, КУКУ-НОР И АМДО | Mongolia and Amdo and the Dead City Hara-Hoto, SECTION II, Kuku-NOR and Amdo
Southward view of Labrang | October 7, 2006 | South view of Labrang from the nearby mountaintop. | Flickr
Sunrise of Labrang Monastery @kiang_song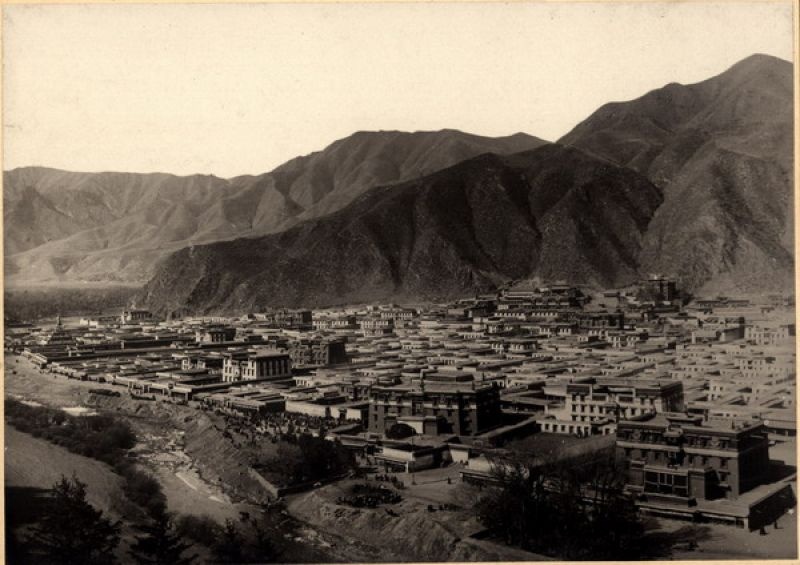 Date: 1910 - 1915, Амдойский буддийский монастырь Лавран