Tsherin Sherpa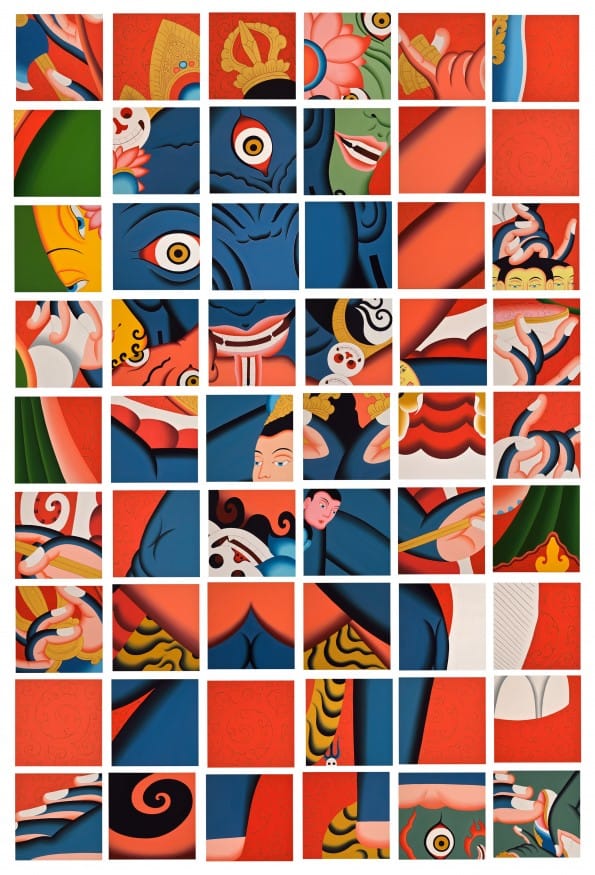 Tsherin Sherpa, Fifty Four Views of Wisdom and Compassion, 2014.
Bring It Home: (Re)Locating Cultural Legacy Through the Body
On view January 22 - May 7, 2016
SFAC Gallery, 401 Van Ness Avenue (War Memorial Veterans Building)
Gallery Hours: Tuesday-Saturday, 11 a.m. - 6 p.m.
Free and open to the public
---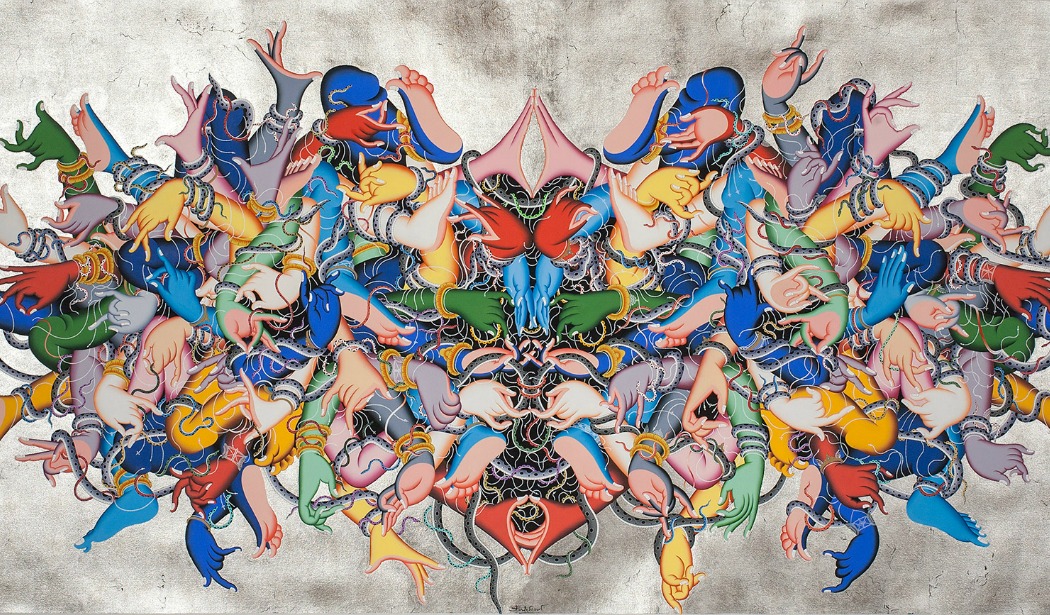 Muted expression 2015
TSHERIN SHERPA | Nepal/USA b.1968
Synthetic polymer paint, ink and platinum leaf on canvas
116.5 x 257.5cm
Queensland Art Gallery | Gallery of Modern Art Foundation
Collection: Queensland Art Gallery / © The artist
My work explores the dualism that exists in my own cultural heritage that is created by social hierarchy between icon and ordinary. On a separate level, the works also recounts my journey of understanding my own displacement and identity in a broader context that also mirrors the experience of many others, particularly by Tibetans born in exile.
8th Asia Pacific Triennial Q&A: Tibetan Artist Tsherin Sherpa | BLOUIN ARTINFO
---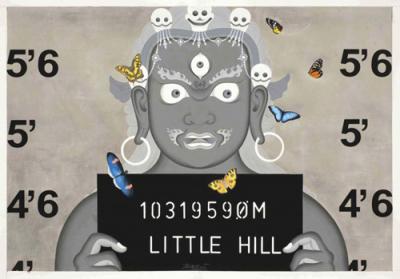 To me it was like, 'how do we merge between the spiritual practice and everyday life, and should there be a gap between mundane and sacred?' I think as soon as we create that gap, or create that distinction, then sacred just remains sacred and mundane just remains mundane, then it doesn't merge. Without that merging, the view of so-called enlightenment is probably not working.
Buddhism on the road | North Adams Transcript | by John Seven | June 7 2013
---
Artist Talk: The Politics of Tibetan Art featuring Ang Tsherin Sherpa | MASS MoCA
---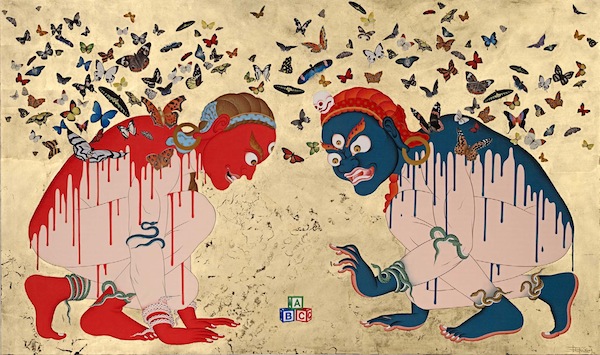 Ang Tsherin Sherpa lives and works in America but grew up in Nepal and was educated by his Tibetan father. Through his arts, he questions the issue of identity and ELOQUENCE talked with him about his childhood, career and philosphy. Editor. Linda Choi
미국에 기반을 둔 Ang Tsherin Sherpa는 티베트인 아버지 밑에서 교육받으며 네팔에서 성장기를 보낸 컨템포러리 아티스트이다. 이러한 성장 배경이 녹아 있는 그의 작품들은 끊임없이 정체성에 관한 질문을 던진다.
Q. In Korea, Tibetan art is not that widely recognized. As a representative of Tibetans, how can you describe it?
A: Tibetan contemporary art is hard to sum up easily since it is truly part of a global art culture. It can't be described only by ethnicity, location, Buddhist religion, style, or form. You don't have to wait generations to react to a painting but can respond right away. One can even see work that is presently being created by the many artists who are putting webcams in their studios. Since I was traditionally trained it is a heavy influence in my work. The first Tibetan artist to show at the world famous Venice Biennale was Gonkar Gyatso who many know by his use of stickers to compose his images of Buddha. You have Switzerland based Tibetan artist Kesang Lamdark who was part of the Trickster Makes the World exhibition at the Nam Jung Paik Center in South Korea.
Ang Tsherin Sherpa ‹ ELOQUENCE MAGAZINE
---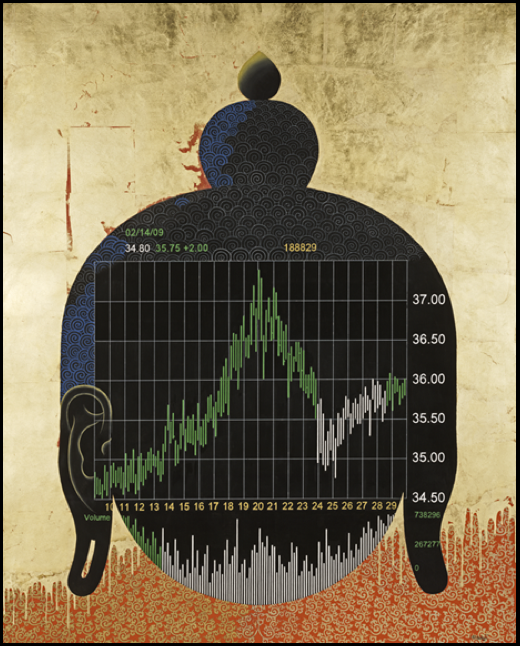 Derivative, 23×32.5″, 2010.
So, there is a very unique way of understanding these images. What is happening to these images for me is like what you were saying; a flag is a flag, a Buddha is a Buddha. A shape is a shape and a form is a form. So my reference point of Buddha is stuck in this image. I need to go beyond it. And the whole idea, in my view, of the Buddhist view, is that it's not really about worshipping some hero; it's about you becoming the hero. So if it is an outside entity which you are devoting yourself to, I don't know, that outside entity would be like me waiting for my green card from the US consulate, where I do not have control over the situation. (Laughter)
Conversation with Tsherin Sherpa « Asia Art Archive in America
---
Tibetan Spirit by Ang Tsherin Sherpa | Frameweb
Tsherin Sherpa | Alta Galleria